Due to the increasing cost of basic commodities, there is a need to inform Filipinos about inexpensive alternative sources of nutrition. Thus, we provide vital information on these alternatives through the campaign anchored on this message:
Sangkap na kasing sustansya, pero hindi kasing mahal.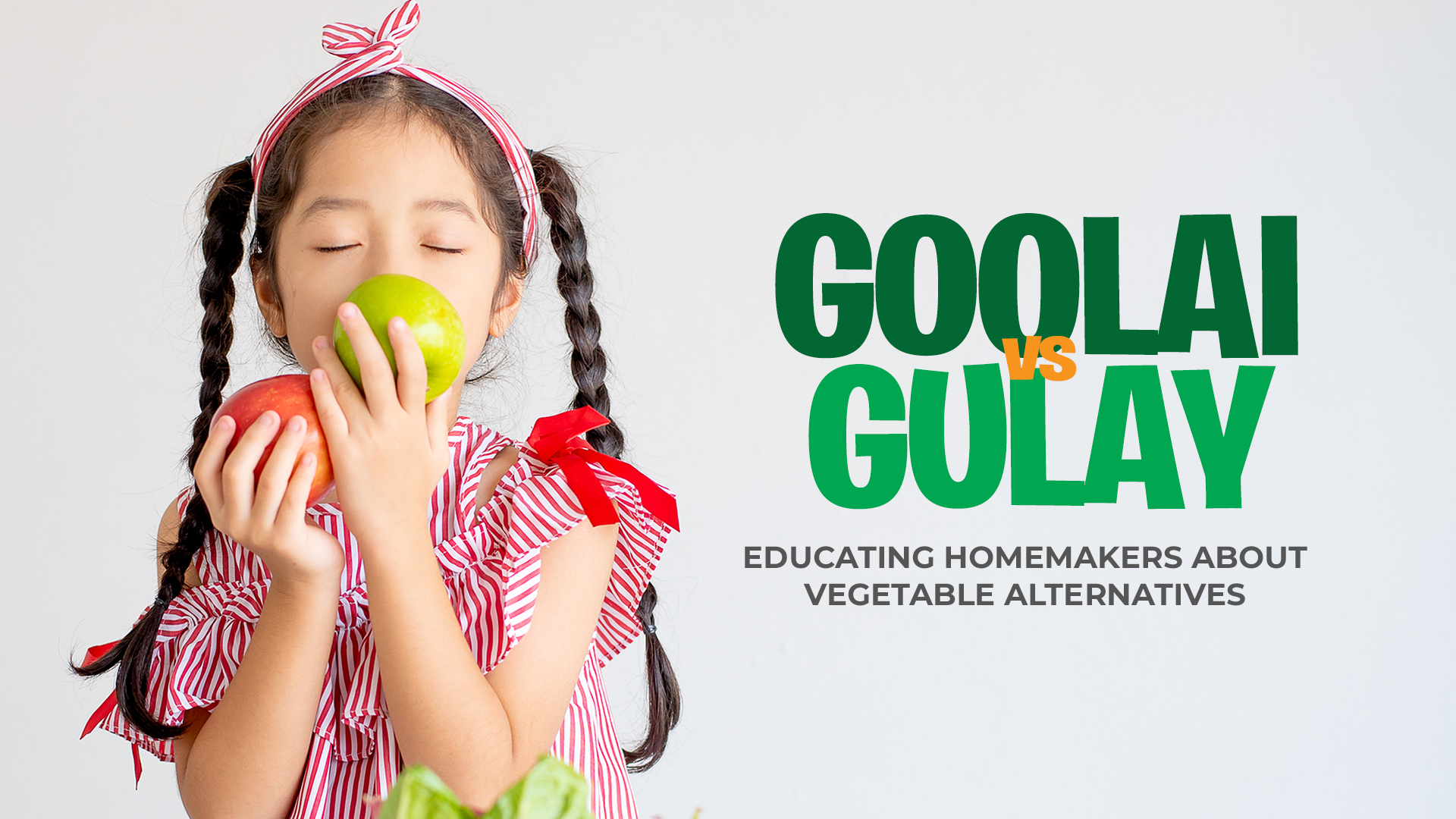 What is it About?
In the Philippines, the cost of essential commodities and nutritious food continues to rise, making it more challenging for most Filipinos to budget their food expenses while maintaining a balanced diet.
According to the Philippine Statistics Authority, 1.04 million families or 6.55 million individuals experienced food insecurity in 2021, with the average Filipino household spending over half of its monthly income on food. In 2022, the country's peso-to-dollar exchange rate hit an all-time low, affecting the rise in commodity prices by up to 12%.
Through this, COMS360 identified homemakers who buy vegetables at retail and created the "Goolai Vs. Gulay" campaign to raise awareness about low-cost food and help families save without sacrificing nutrition.
In a span of two months, the campaign reached 123,408 people and accumulated 4,387 engagements through the partner's leading Facebook page and two other social media platforms handled by the agency.
What is the Purpose?
To combat rising commodity prices in the Philippines, particularly for vegetables, COMS360 created a campaign that allows Filipinos to enjoy still cooking even on a very restricted budget, making serving food filled with nutrients easier.
Planning a daily meal can be exhausting and time-consuming, and even more difficult with a limited budget. In the Philippines, a household of five has to budget PHP 8,000 per month to eat affordable and nutritious meals three times a day and avoid falling under the category of "poor food" or a hungry family.
According to the most recent figures from the Rizal province Agriculture Marketing Information System, known as one of the country's biggest suppliers of fruits and vegetables, most wholesale prices rose compared to the base price in 2021.
For instance, the price of tomatoes (green and ripe) marked the highest increase at Php 40.48 to Php 48.65 from the July 2020 level due to less supply on the market. Relative to last year's period, the price of tomatoes (green and ripe) had the largest increase of 165.70 percent.
As the cost of essential commodities and nutritious food continues to rise, it is becoming more challenging for most Filipinos to maintain a balanced diet. According to the Commission on Population and Development (POPCOM), the average Filipino family spends nearly half of its monthly resources on food. In 2018, the data analytics group Kantar stated that Filipinos spend a third of their budget on fresh and packaged food and less on basic service necessities and other social services, resulting in many Filipinos not eating the right amount of nutritious food.
The Philippine peso exchange rate fell to an all-time low of PHP 59 for the first time compared to the US dollar. As a result, the prices of essential goods and imported commodities have increased by almost 12%. Amidst this background, the PSA reported that 1.04 million families or 6.55 million individuals experienced food insecurity in 2021, a higher number than the 840,000 families or 5.54 million individuals recorded in 2018.
In September 2022, the Philippines was hit again by another Super Typhoon Karding, which left massive damage to the agriculture sector, particularly those businesses that deal with vegetables. According to the public advisory of the Department of Agriculture, the catastrophic damage caused by Karding to the agricultural sector amounted to PHP 3.12 billion. Farmers and fisherfolk were the most damaged in the sector, especially those in parts of Luzon and the Western Visayas region.
As a result of these subsequent cases of food insecurity and the typhoon's aftermath, the agency has developed the "Goolai vs. Gulay: Educating Homemakers About Alternative Sources Of Nutrition" campaign to not only help raise awareness about how to cook nutritious food but also help generate savings for the family's following meals.