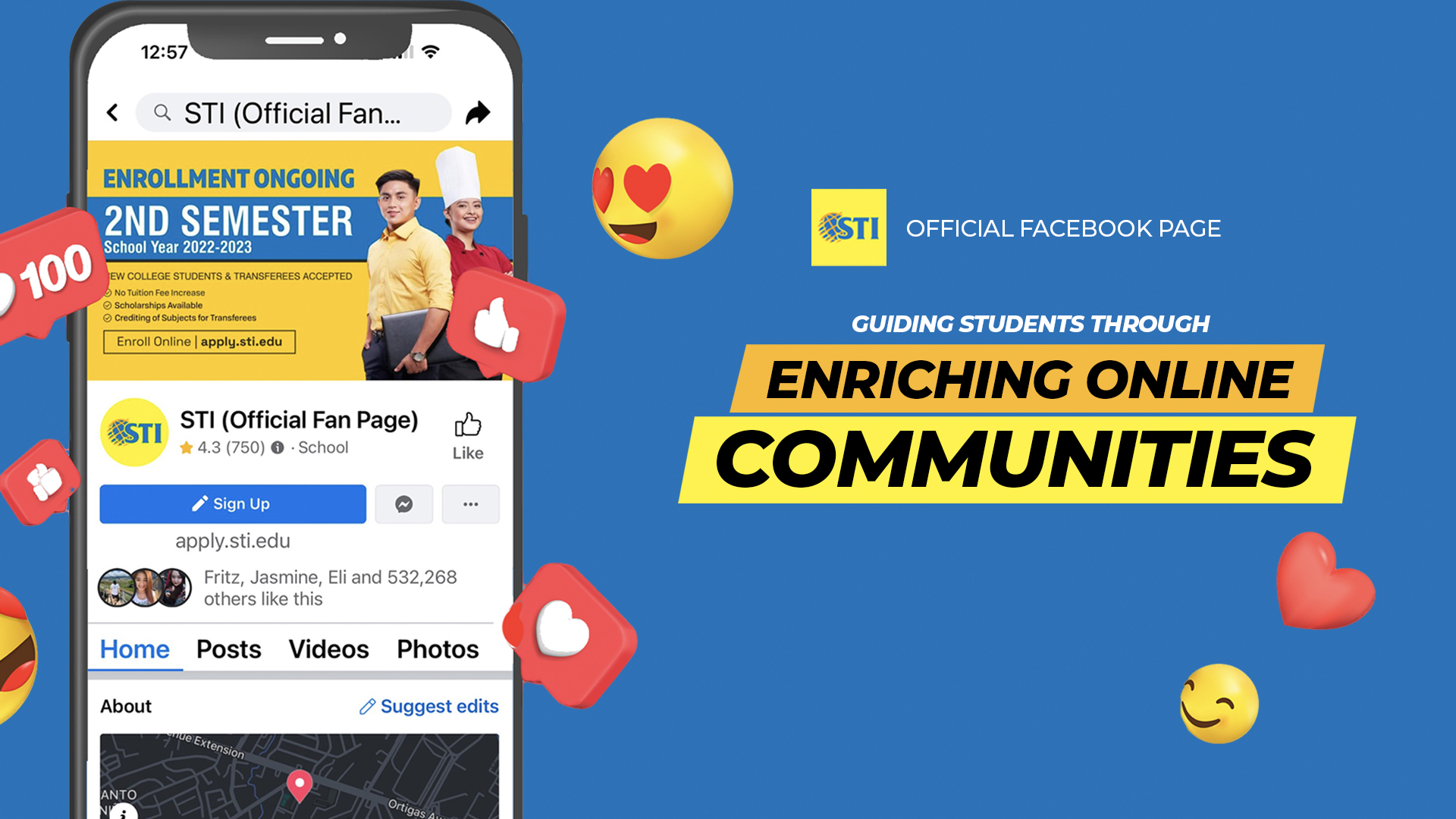 What is it about?
The STI Social Media campaign is a PR tool developed by STI to transform and maximize its Facebook page to cultivate an engaging and enriching online community for today's online youth.
STI successfully developed insightful, informative, and inspiring content which reached and engaged over 26.286 million and 20.628 million online publics, respectively. Together with this, STI also increased its program inquiry to 13,147 inquiries and converted 68% of which to actual enrollments.
From campus to online, STI remains steadfast in its commitment of helping mold future-ready graduates and empower the youth in achieving their dreams. STI also discovered that 78% of those surveyed found the page and its content helpful in their student life and shared that they felt less anxious about their schooling and career planning through its content and the online community – 89% of those surveyed also gained an improved appreciation for the school.
What is the purpose?
In the past decade, social media have truly taken over the way publics and businesses communicate. From what was once a platform to pass time, it is now seen as an essential communication tool and an integral part of everyone's life – not only for digital natives, but also for digital immigrants.
Social media's appeal – or online communications in general, lies in its ability to bring people together and to deliver messages in record speeds, which was most evident during the pandemic. In fact, despite borders opening across the world, experts still observed a jump in global online users from 4.6 billion to 4.62 billion in 2021.
In the case of the Philippines, We Are Social and Hootsuite shared that there are currently 76.01 million internet users in the Philippines which is 68.0% of our nationwide population. Likewise, a similar study revealed that internet users increased by 2.1 million between 2021 and 2022 with Facebook being the most popular social media platform in the Philippines.
As digital natives, students look at social media as an essential not only for entertainment and connecting with others, but more so in accessing information and insights to aid their learning and consuming news and current events. According to the Philippine Statistics Authority (PSA), students utilize social media to: (1) communicate with friends and family, (2) unwind from studying, and (3) accomplish school-related tasks.
Consequently, social media served as a refuge for students during the pandemic – as most students reported experiencing anxiety, boredom, and sadness due to isolation, which adversely impacted their motivation to learn. With social media, students were able to unwind and breathe in a sense of normalcy as they reconnected with others.
As an education institution that's dedicated to holistic learning, STI understands the importance and benefits of student interactions and the opportunity to learn beyond the classroom.
Through these insights, STI transformed its STI Official Facebook Fan Page into an online community that helps students cope, learn, flourish, and to experience the holistic learning experience that STI offers. This was done through the strategic development of enriching contents and engaging activations that aim to mimic the traditional school interactions to cultivate a sense of belongingness for students who are unable to bond with their peers and teachers.